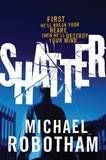 I write book reviews for the great online horror/suspense website,
Dark Scribe
. Every month, in my column "Grimoire" (Books that Cast a Spell), I bring readers a new horror/suspense find that they should add to their reading lists.
This month, I review Michael Robotham's SHATTER. In part, here are my thoughts on the book that kept me up way past my bedtime:
It was Stephen King who talked me into reading Shatter. This is what he had to say in

Entertainment Weekly

:

"Gideon Tyler, the deranged villain of this exceptional suspense novel, is a devil so persuasive he's able to talk his victims into killing themselves. His opposite number, psychologist Joe O'Loughlin, must match wits with Tyler to save his wife and child from deaths almost too horrible to contemplate. Don't get into the second half of this book before that Green Day concert, or you'll end up staying home to see how it all comes out."

When Stephen King praises a suspense novel, I think I'll take notice. And I definitely think I will have to pick up more of Michael Robotham's work. Shatter is a book that offers readers such original and delightful shades of darkness and light that I wondered when I had last been so impressed.

And then I remembered. The last time I was so duly impressed was when I first read Thomas Harris's Silence of the Lambs...
Read the entire review
here
.